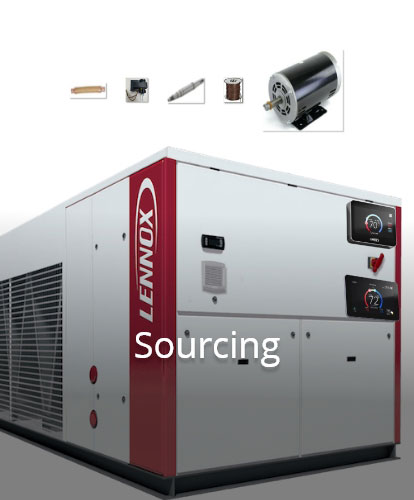 The Sourcing department is an integral part of the WWSC organization (Worldwide Supply Chain) and operates truly as a center that - wants to be the most innovative, cost competitive, and of highest quality/reliability for the components sourcing & supply chain.
The key goal of the team is to help Lennox partner with suppliers in India and its neighboring countries to ensure the below:

Competitive Pricing | On Time Delivery | Quality & reliable products
The team believes in doing all the above with a great attitude, sharing knowledge with each other and to be innovative wherever possible.
The India Sourcing team works with all Lennox factories across the globe including Corporate Sourcing & Supply Chain leaderships, Component Qualification and Value Engineering teams. The team's focus is to strategically partner with suppliers from India, Middle East & South East Asian countries. Our Sourcing team has successfully identified more than 250 suppliers who are best-in-class manufacturers across the country with state-of-the-art facilities. To name a few, they are suppliers located in Delhi (NCR), Mumbai, Nashik, Pune, Ahmedabad, Bangalore, Chennai, Coimbatore, Hyderabad, Cochin, Chandigarh, Dubai, Damam, Manila etc.…
Sourcing in India include components for Mechanical & Electrical purposes - Motors, Valves, Plastics, Rubber, Insulation, Electronics etc. The components are exported from Indian manufacturers to the Lennox factories in USA, Mexico & Europe, and is functioning successfully with a great supply chain performance. This is also a great opportunity for "Indian manufacturers" to build long-term relationships with Lennox, and to learn/explore the North American and European markets.