The Mechanical department is a global center of excellence of the R&D center and operates truly as a center that, wants to be the most innovative and of highest quality at the lowest Product development cycle. The Mechanical Engineering team works with all Business units across the globe including simulation, design, system modelling and Value Engineering. We have been using cutting edge tools like Ansys, Abaqus, SYSIM, RefCoil, Energy Plus, etc. for the Simulation teams & Solid works, Solid Edge, Creo for the Product Design & CAD Teams.
The key goal of the team is to help produce industry leading products to customers through accelerating innovation and reducing time to market. We're proud of our innovative capabilities, where-in we have received over 50 Intellectual Property rights since 2015, which is the highest among the other departments in LII worldwide.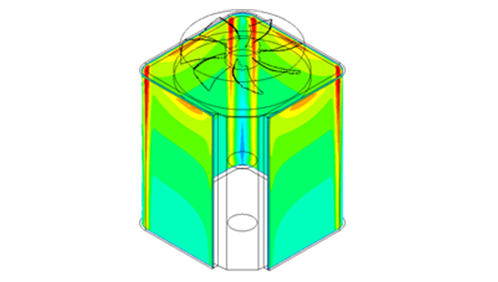 CFD
HVAC products are complex systems made up of multiple components and usually quite large. Testing a field issue that may arise or testing out a new design can be intensive in terms of time, money and resources. This is especially true when multiple test iterations are required to get to a solution. CFD simulation capabilities provide product teams with the capability to virtually simulate design iterations/problem solutions before proceeding to the prototyping and product qualification stage. The CFD Team is part of the Mechanical Team at Lennox India. Our team consists of engineers with diverse skillsets using CFD tools and System Modelling capabilities to solve fluid flow and heat transfer related problems pertaining to LII products. The team has considerable expertise in working with different Advanced Simulations tools like Ansys Fluent, Meshing, STAR CCM etc. Additionally, we are also able to analyze and simulate solutions at the system level via in-house system simulation software that we have developed.
FEA
The primary mission of this function is to simulate physical reality using finite element analysis to get reliable, high quality products to customers, faster. It has a cohesive team of highly motivated engineers who love simulating physical phenomena like operating vibration, transportation, product handling, thermal fatigue, electronics circuits, manufacturing processes, noise and more. The team helps LII businesses in designing best products, fast. They reduce the time & cost associated with expensive and time-consuming product testing by virtually simulating these tests using finite element methods (FEM). Preserving and advancing LII's technology edge is one of their top priorities. They work closely work with advanced technology organization and support LII businesses with their technology programs to create next generation HVAC&R.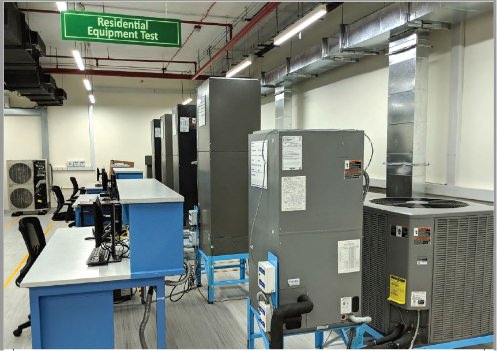 It's a new kind of physical environment that Lennox International as a company create, and the mission is to serve as a focal point for innovation programs and Technology advancement activities within Lennox. An innovation lab can help push a company into new territories, reassure stakeholders, and entice consumers.
The motivation for the innovation labs was clear for us in 2016, and the idea finally took root that a bigger and more diverse lab-space was needed to enable our employees to tryout innovative design and testing.
We started ideation, planning in middle of 2016 and targeted for a fully functional lab by 2018. So, moving from technology expertise to Lab Equipment's design, learning safety procedures and managing schedules and managing budgets was not an easy task for LITC engineers. But with strong cross functional integration and leadership team guidance, the team was able to overcome all challenges and bring the Best Engineering Innovation Lab to live on the 4th March 2019.
At the moment, we have two lab facilities namely 'Mechanical Engineering Lab' and 'Controls Equipment & Reliability Testing Lab'. Both are separate labs, each roughly about 4000 sq. Ft, located in the basement of the Crest building at Ascendas IT Park.