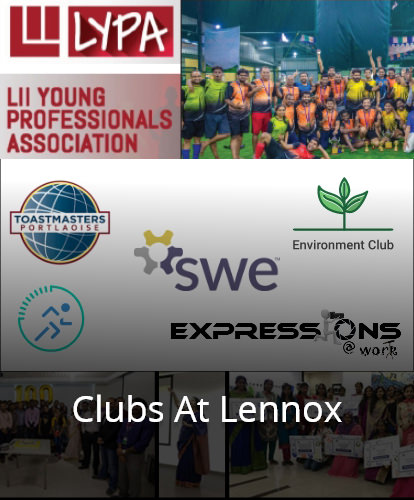 LYPA - LII Young Professionals Association

LYPA's focus is to identify the development needs of each employee and provide them with necessary guidance, and facilitate courses to enhance their career, and other competencies required to grow in their personal and professional life. In view of this, they organize various sessions during the year such as competency workshops, mentoring, communication workshops, inspirational talk shows, etc...

LWBC (LII Women's Business Council)

Lennox India's greatest mission is to make it a great place to work for women. All women who join LITC are members of LWBC by default. Apropos their mission, LWBC organizes various programs for women to help improve their professional skills, networking and inter-personal skills; build leadership qualities, etc. Besides serving as a platform to discuss career development, health and fitness, and general well-being, the committee also promotes friendship and cooperation amongst women in the company.

SWE (Society of Women Engineers)

One of the world's largest women–support organizations, headquartered in the U.S., with a mission to empower women to achieve full potential in careers as engineers and leaders, expand the image of the engineering and technology professions as a positive force in improving the quality of life, and demonstrate the value of diversity and inclusion.

SWE will be a prime facilitator for creating personal relationships, support systems, and networking between women in engineering and technology. LITC has been associated with SWE since the year 2016, to help their women employees, seeking growth and advancement at all stages of their careers.

Lennox India Toastmasters Club

The club is associated with TOASTMASTERS INTERNATIONAL forum, which has helped people from diverse backgrounds to become confident speakers, communicators, and leaders. There are regular conferences, meets and contests like quiz, story writing, public speaking, etc. organized to get the members to build the competencies required to communicate and lead. Just as importantly, the membership is LITC -Sponsored.

Sports Club

At LITC, we believe that it is equally important to offer our employees activities during the working week as a stress release, and for them to have access to creativity and ways of unwinding. In light of this, the sports club at LITC was formed in order to inspire our employees to engage more in physical activities, helping them stay fit and healthy throughout. The various sports that the club consists of are: Cricket, Football, Badminton and Table Tennis. Through the year, various tournaments are conducted and are some of the most celebrated times of the year.

Environment Club

The Environment Club at Lennox India aims at increasing awareness of environmental issues among the employees, and to help them become better stewards of the environment, share knowledge about developing and sustaining our natural resources and promote awareness and social responsibility amongst everyone. The team consists of many nature enthusiasts who regularly catch up to plan and host workshops and learning sessions for the employees.