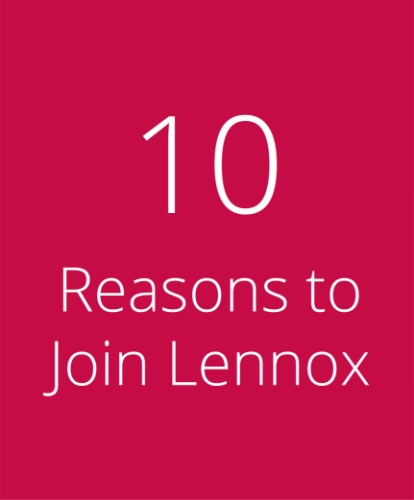 1

A World Class Career

At Lennox India Technology Centre (LITC), our focus is on collaborating with our global business partners in developing innovative and cost-effective products, systems and solutions that are energy efficient and make our life comfortable. Our Global Design Centre, based in Chennai, helps us bring together the best technology and engineering minds. Sheer competency, efficiency and commitment to delivering value of the highest standards is ingrained in each of us at Lennox India.

2

People Come First

We encourage free exchange of ideas, respect for differences, and wellbeing in the workplace for everyone. We are a people-centric organization and we value the happiness of our employees. Our people always comes first!

3

Our Core Values

Integrity:

We behave in an honest and straightforward manner.

Respect:

We respect our employees, customers, suppliers, competitors and the communities where we work and live.

Excellence:

We value high performance from our employees and suppliers and quality in our products and services. We deliver value to our shareholders.

4

A Culture Built On Collaboration And Innovation

Innovation is our key to success, and we practice it in everything we do. What connects us to each other? Our purpose and values. The way we conduct ourselves, trust each other and support each other to unlock our true potential. Our strategies, greater operational efficiency and excellence, more satisfied customers and more engaged peers.

5

Strike A Balance That Works For You

You're human - and so are we! We strive to make sure our employees achieve a healthy, happy work-life balance.

6

Leaders Who Support Your Development

Delivering our strategies means having the best people. Our leaders genuinely care about your career growth. The investment in learning and development is an investment in our people and our clients, learning and development is one of our biggest priorities.

7

Careers Without Boundaries

We offer opportunities as big as the world. You'll have the ability to create a career path that matches your talents, interests, and goals. Whether you want to change functions, skill or technology, we give you the freedom to explore.

8

Diversity And Inclusion In Everything We Do

We recognize that a culture that celebrates individuality and leverages those differences represents an enormous competitive advantage. Simply put, a workplace where people feel valued and included is a place where people soar.

9

Community Investment

At LITC, we embrace corporate social responsibility from top to bottom. We believe it's our obligation to make our world a better place to live in, with a greener and cleaner environment. CSR at LITC is completely employee owned and the campaigns are purely employee driven. We enable and reward our employees' commitment to their local community through several key programs.

10

Come See For Yourself

Whether you join us as a recent graduate or a seasoned professional, you'll start to work directly on challenging projects from day one.